Are you a busy parent who wants to lose weight and build muscle but can't find time to work out with your busy schedule?
Learn how busy parents and working professionals are getting in the best shape of their life in their 30's, 40's, 50', and up.
8-Week Get Strong From Home Challenge. Starts September 25.
Early Bird Discount. Save $100 if you join in the next two days. 
MAKE THE CHANGE
You Can Get In Great Shape While Also Providing For Your Family. In the next 8 weeks, you can:
Lose 10-30 lbs
Build Muscle
Lower Stress
Improve Your Flexibility
Have more energy to play with your kids
Yes, it really is possible!
In my 8 week Get Strong From Home Challenge, you'll learn how to finally take control of your health.
INTRODUCING
The 8 Week Get Strong From Home Challenge!
You Are Ready To Take Control of Your Health?
This probably is not the first workout program or diet you've tried. Behavior change is hard.

Learn my secret accountability method that's helped thousands of people not only lose weight, but keep it off for years. 
This 8-week challenge will teach you how to make fitness work for your busy schedule and build a body you are proud of. You'll learn how to:
Make nutritious meals you and your family will love. 
Use quick efficient home workouts to help you build a body you love.
Create a daily meditation practice to help cultivate a positive mindset.
Commit yourself to this program for 8 weeks and you'll be shocked at how great of shape you can get in from home.
OVER 20,000 PEOPLE  HAVE FOUND SUCCESS WITH THIS PROGRAM
This mom went from a size 16 to size 4.
College professor lost 30lbs with TMAC.
In The Next 8 Weeks, You Could…
Finally, lose that stubborn belly fat.
Feel confident in your bathing suit.
Be The Fit Parent that your kids can look up to.
The right workout, diet plan, and mindset will get you from where you are now to where you want to be.
TAKE CARE OF YOURSELF, SO YOU CAN GIVE YOUR BEST TO YOUR LOVED ONES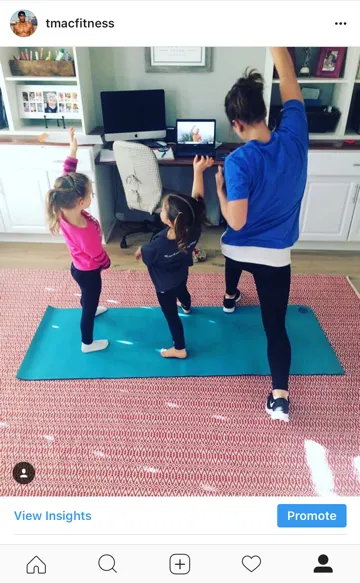 What's Included In The Challenge
 

20 Minute High-Intensity Workouts (HIIT)

Beginner & advanced workouts. No equipment is needed.
Scorch fat.
Increase your energy.
Improve heart health.
These 20 minute workouts will leave you feeling energize and burning calories all day through what science has proven to be the Afterburn Effect - where you burn calories long after your workout.
 

Kettlebell Workouts

Beginner & Advanced options. Workouts range from 20-40 minutes.
Build muscle.
Get rid of belly fat.
Build a more confident mindset.
When we build muscle our bodies become more efficient at burning fat off the body.
 

Yoga

Mobility is the key to longevity. Videos 15-40 minutes.
Get rid of low back pain.
Build a stronger core.
Lower stress.
We want to be able to pick up our children without back pain. Yoga helps us do just that.
 

Meal Plan

Great tasting whole food meals. 
Breafast, lunch, dinner recipes.
We focus on animal-based proteins, vegetables, and fruit. 
No calorie or macro counting.
Finally, learn to eat food you love without starving yourself. Say hello, to steak, eggs, fish, and sweet potatoes.
This 8 week challenge is for if...
You're tired of making excuses.
You'd love to feel confident in a bathing suit.

You crave more energy to play with your kids.
You want to improve your sex life.
You need to lower your stress levels.
NICE TO MEET YOU
I'm Todd McCullough (TMAC)
First, here's a few fun facts about me:
Starting football player for The University of Florida. Go Gators!
Personal trainer 13yrs
Yoga teacher for 10yrs
I'm excited to be your coach for the next eight weeks. I know you're frustrated with where you are now with your body. Don't worry, I've got your back. I've helped thousands of busy parents just like you get in the best shape of their life, while in their 30's, 40, and 50's with my home workout program. I'm not saying it's going to be easy. But is anything worth achieving easy? 
Commit — and I mean really commit to this program — and if you don't love your results, I'll give you a full refund, no questions asked.
Sound fair?
If so, let's get to work. 
Much Luv
- TMAC
I have not worked out in a while. Not sure if I can do the workouts?
Is it hard to cancel my membership?